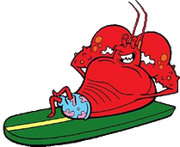 Larry is a muscular red lobster who is a common patron and lifeguard of Bikini Bottom's popular beach, Goo Lagoon. He is voiced by Doug Lawrence. Larry first appeared in the episode "Ripped Pants". Although he appears in many episodes, Larry is a relatively minor character in the series, usually relegated to minor or background roles.
Nicktoons MLB
Edit
Larry appears as a playable character in Nicktoons MLB. He throws right-handed.
2 Seam: *****
Screw: ****
Cutter: ****
Changeup: ***
Nicktoons: Toons Wars
Edit
Larry appears as an assist character in Nicktoons: Toons Wars.
When Larry is summoned he will first show of his biceps and then rushes towards one of the opponents and fights the opponent rapidly. The first few punches mostly will cause damage but then he will do one strong punch that sends the opponent flying.